Rizk Casino is having a birthday party week, and you get all the presents!
It's been a year since the Captain opened the doors to Rizk Casino, so he is feeling more than a little festive. As in, giving out 1000 birthday presents to 1000 winners every day!

Rizk's birthday week begins on 12:00 CET on Thursday, the 6th of January, and it will last until Friday, the 13th of January, 23:59 CET. Every day, Rizk Casino will be giving out 1000 presents to 1000 lucky players.
When you level up during birthday week, you will get one entry into the daily prize draw. The more times you level up, the greater the odds in your favor. Each day, 1000 entries will be drawn, and 1000 players will receive prizes, from 25 Free Spins to 100€ free money. Rizk Casino sure knows how to celebrate, so don't hesitate to join in the fun!
Here is the breakdown of the daily rewards:
Money Prizes:
1st place gets €100.
2nd through 10th place winners will get €50.
11th to 20th place will get €20.
Free Spins Prizes:
21st place through 100th place gets 100 free spins.
101st place through 500th place gets 50 free spins.
501st place through 1000th gets 25 free spins.
Last, but not least, Norwegian players get an extra reward from the Captain!
From the 9th of January until the 22nd, new players from Norway who will make an account at Rizk casino will get the current welcome package and an additional 200 KR bonus money. Current players will also be rewarded. On the 9th of January, every Norwegian player will get a chip of 200 KR added to their accounts.
Casumo Continues Boosting the Reel Races and giving Free Spins
Next week, you will be able to enjoy Boosted Reel Races at Casumo on Thursday and Friday. Casumo runs the usual Reel Race Main Events every day at 20:00 CET, where the winner gets €/£ 1000. On Thursday and Friday, the Promoted Reel Race Main Events will bring an extra €/£ 1000 to the winner. You can learn more about Casumo here.
The Promoted Reel Race Main Events for next week will be: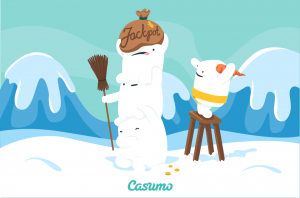 Book of Dead on Thursday, 12th of January
Gemix on Friday, the 13th of January
Winners will get €/£ 2000!
Casumo is also giving out free spins next week.
Get Wild Chase free spins on deposit on Monday and Tuesday. By depositing €/£ 10 you will get 10 Free Spins, and if you deposit €/£ 30, you will get 40 Free Spins. Book of Dead and Gemix free spins on deposit are available on Thursday and Friday. You can get 100 free spins by depositing €/£ 50. A deposit of 30 will get you 50 free spins, and a deposit of €/£ 10 gets you 15 Free Spins.
Take a break from daily troubles at SlotsMillion
Feeling down on a Monday, ladies? Then SlotsMillion is the place to be! Every Monday is Ladies' Night at SlotsMillion, and ladies get a 40% bonus on deposit, up to €/£ 100! In turn, gentlemen will get a 40% bonus up to €/£ 100 on Gents' Night every Wednesday.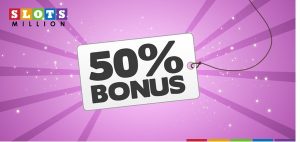 Every Friday, however, both ladies and gentlemen are entitled to a bonus of 50% on every deposit up to an accumulated €/£ 100.
Keep in mind that these promotions during the night begin at 7 PM and end at 11 PM. You can learn more about SlotsMillion here.
There is something for everyone at SlotsMillion. Every day, if you need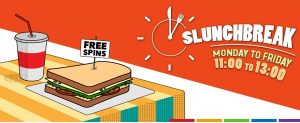 amusement during lunchtime, visit SlotsMillion between 11 AM and 1 PM, and you will get 20 free spins on every deposit. Now, isn't that the perfect way to take a break from work?