Valentine's day is almost upon us. Your favorite casinos already began showing the love, but this week, you will get double chances to double your money!
SpinFiesta wants to draw you into a Monday Madness
Get ready for Monday Madness, SpinFiesta's incredible promotion.
Every Monday, when you make a deposit using the code MONDAY, you will get rewarded with a 100% bonus up to £/$/€50.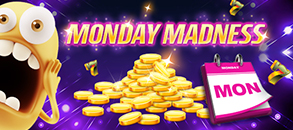 But, there is a reason why we put the word madness in the title. SpinFiesta doesn't do things halfway. Using the code word MADNESS when making a second deposit on a Monday will get you an additional 50% bonus up to £/$/€100.
Bes of all: Monday Madness happens every Monday, and you can use the bonus money on any casino game, jackpot or slots – what a better way to bet lucky on a Monday?
Guts Casino is joining in the fun with Double Deal Monday
It appears that this year, your favorite casinos are making a great effort to dispel the bad juju surrounding Monday.
Guts Casino has a great offer called Double Deal Monday, which is bound to bring forth a smile on your face on a Monday – an incredible feat, in any case.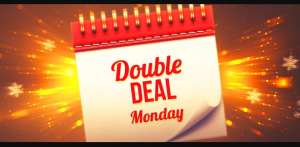 Using the bonus code DOUBLE when making a deposit on a Monday will get you a 40% casino bonus up to $40.
But, if you use the code on Monday, you will get free spins on Tuesday. Deposit at least $20 on a Monday, and 15 free spins will wait for you on Tuesday.
Best of all offers is Game of the Week: every week, players get free spins on a selected game from Guts Casino, deposit or no deposit on Monday. Just to make sure that the rest of the week goes well.
Rizk Casino makes every player feel Lucky
Remember Lucky the superhero dog? No? Here is a reminder.
Rizk Casino has decided to turn February not only in the month of love but also in a Random Acts of Kindness Month. For that reason, Lucky the superhero dog and the Captain have teamed up and taken charge of Rizk to put a smile on everyone's face.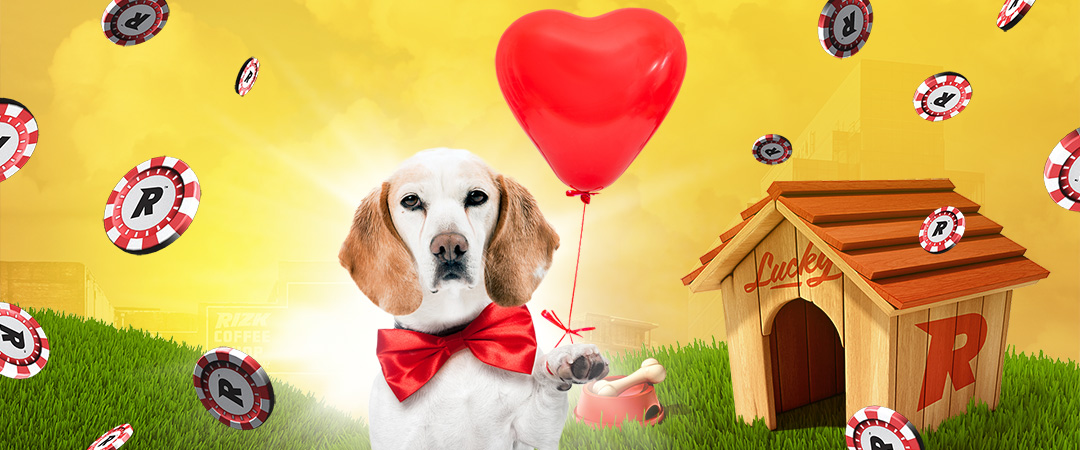 Lucky's idea for this week is 50 free spins, with 10 free spins per day on a selected game at Rizk Casino.
To unlock the free spins of the day, all you have to do is level up. When you level up, you will unlock the 10 free spins on the following games:
Day 1: Aloha: Cluster Pays
Day 2: Spinions
Day 3: Starburst
Day 4: Goldlab
Day 5: Warlords: Crystals of Power
Best of all is that you can win free spins every day from Monday, February 12th until Monday, the 20th. In other words, you can get up to 350 spins during this period.
The Captain, however, was not satisfied with only free spins to put smiles on players' faces. For that reason, he is bringing back the Rizk Race.
The Rizk Race begins on Monday, the 13th of February, and ends on Saturday, the 19th, at midnight. The usual race rules apply: there is a leaderboard, there is a prize pool of $7777, Double Speed Chips and Cashback chips.
The weekly leaderboard will update continuously throughout the week, and on Sunday, the winner will get a reward of €7 777. Second place gets €450, and third place gets €200. To win, you have to level up. You get one point for each level up, which means that you will get one point in the race and 10 free spins. With that, the Captain is finally satisfied.
Mr Green has a Valentine's Day surprise in store
What happens on Valentine's Day at Mr Green's abode?
Well, players will get a chance to enjoy some Cash Love. Mr Green will deal 40 Gold Cards on the Exclusive Blackjack tables. Each gold card will display its real value of €200, €150, €100, €75 or €50.

What happens if you get a card? You get the cash value. It's very simple, and best of all, there is no limit to how many Gold Cards you can win. If you're lucky enough, you might just win all of them.
The Gold Cards will pop up unexpectedly at 2 PM CET on Valentine's day, and by 2 AM CET on the 15th, all the cards will be dealt. So make sure to drop by within that period and see whether you will get lucky in more than one way on Valentine's day.
Mr Green's surprises don't stop there. In addition to Race to the Race and Scruffy Duck Hunt – you can see what they're all about here – Mr Green is bringing the circus to town.

So, roll up your sleeves because Mr Freen has a Wicked Circus mission for you. The Wicked Circus Mission is only for the bravest because the reel fun at the Wicked Circus begins at nightfall.
The mission consists of three objectives:
Objective 1: Collect 200 coins in mystery wins at Dark Joker Rizes
Objective 2: Collect 200 coins in mystery wins at Jokerizer
Objective 3: Collect 200 coins in mystery wins at Wicked Circus
The top 50 players on the leaderboard, who will complete all three objectives in the mission in as few spins as possible, will get the reward: a share of the €5,000 in Cash. You can complete the objectives in any order – you can start with Wicked Circus and then complete the Jokerizer objective if you want, but you must complete all three to qualify for a place on the leaderboard. Also, you must complete the objectives in as few spins as possible to win. Best of all: if you think that you can do better on the leaderboard after you've completed the mission, you can hit reset and start again.
The winner will get €1500, second place gets to go home with €1000, and third place gets €400. The competition begins on Wednesday, the 15th February, and ends the following Wednesday, the 22nd of February.