The theme of gambling has always been present in movies. Some of them have focused on the act of gambling and its consequences. In other films, gambling is part of the background. What all these movies have in common is the gambling theme and the fact that they are highly entertaining. Most of all, they will definitely make you wish to go to Las Vegas on a gambling spree. Since that's not always possible, you can always check out our list of best online casinos to get the best experience. They are an excellent choice for all casino lovers and gambling enthusiasts. Without further ado, below is our list of 10 gambling movies you must watch immediately.
1.    The Lady Gambles (1949)
The oldest film on our list, The Lady Gamblers is fascinating due to its main twist: the gambler is a woman. Joan, the lady in question, gets acquainted with gambling when her husband, who is a journalist, is called in on an assignment at the Hoover Dam. They stay at a Las Vegas casino. While he is busy with work, Joan spirals downward into gambling addiction. The movie is dark and gritty and shows a surprisingly accurate insight into gambling addiction. But, it also offers a lot of footage of what the Las Vegas casinos used to look like in the years before the Strip.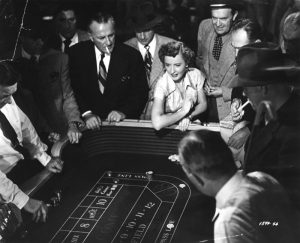 2.    The Gambler (1974)
The Gambler follows a similar theme as The Lady Gambles, with a few differences. The protagonist is a literature professor from New York City. He has an adrenaline addiction before the events of the movie. The movie focuses on the climax of his thrill-seeking activities, and his psychological downward spiral. Despite the fact that it's very dark, the movie has quite a few scenes filled with humor. Most of all, the Gambler shows the glamor of gambling in Vegas and how gambling is very exciting – when you win. If you're not into watching classics, you can see the remake of 2014.
3.    Bugsy (1991)
Bugsy is a biopic of the life and death of Benjamin "Bugsy" Siegel, and his adventures, or misadventures, that lead to the building of the Flamingo Casino. Bugsy Siegel is, for this reason, often thought of as the forefather of Las Vegas' Strip. There are many inaccuracies in the movie regarding history, but the highlight is Bugsy building the Flamingo Casino. Watch as Bugsy tries to charm Virginia Hill, and deal with the troubles of building the Flamingo Casino. The focus is on Bugsy having to deal with construction costs, which lead to his conflict with Meyer Lansky.
4.    Casino (1995)
Directed by Martin Scorcese, and with a cast led by Robert De Niro and Joe Pesci, Casino is arguably one of the best casino movies of all times. It has everything: gambling, mafia, and great acting. Best of all, it shows the true story of Lefty Rosenthal and the scandal that involved the Argent Corporation and the Stardust Casino. The Stardust Casino has been demolished since, which makes the movie even more worth watching.
5.    Hard Eight (1996)
Hard Eight often gets overlooked as a gambling movie because it's more of a thriller. However, the movie has an excellent cast. Phillip Baker Hall plays an experienced gambler who helps a drifter (John C. Reilly) learn gambling tricks. The movie also has an excellent support cast, including Samuel L. Jackson and Gwyneth Paltrow. It's definitely worth watching.
6.    Ocean's Eleven (2001)
The movies in the 2000s took on a different turn compared to gambling movies in the 20th century. The majority of gambling movies after 2000 involve a heist. Ocean's Eleven groups together Brad Pitt, Julia Roberts, George Clooney and Matt Damon. Ocean's Eleven probably ranks as the most entertaining movie on our list. So, strap in and watch this ensemble cast of actors rob three different Las Vegas casinos.
7.    The Cooler (2003)
A cooler in a casino is a person who has no luck, and his presence at a table makes other players lose. Whether casinos actually do employ coolers or not, the Cooler shows it would not be a glamorous job. The Cooler follows the story of Bernie Lootz, who is the biggest loser in Las Vegas. When a cocktail waitress takes an interest in him, his love life and luck turn for the better, bringing his career as a cooler in jeopardy. If you're in for some romance in Las Vegas and some gambling, this movie is an excellent choice.
8.    Revolver (2005)
Revolver is a 2005 film directed by Guy Ritchie. The movie didn't do so well at the box office when it was released. The plot is complicated and requires your full attention. On the other hand, the movie got an extended version in in 2007 and gained an almost cult-like following.
The plot follows Jake, a professional gambler, and a con man, bent on revenge. The movie is long, and the storyline is complicated but highly rewarding. The highlight is the formula Jake develops while he spends seven years in prison. It's a method that can be applied to any game or con and produce a win. After Jake gets released from prison, he sets out to exact revenge on the crime boss Dorothy Macha, who terrorized Jake's family and threatened his life. Revolver has everything, from gambling and drama to comedy and crime.
9.    Casino Royale (2006)
Who doesn't like a Bond movie? No one, that's who.
Casino Royale brought back Bond's popularity as the world's best spy. Casino Royale was such a success that we still get new installments. The plot is simple – Bond is back in business and attempts to thwart another terrorist/weapon raising operation, this time through a poker game versus a high roller. When you combine casinos, action, and James Bond, you get an explosively entertaining combination, which is why this movie should be on anyone's to-see list, not just gambling enthusiasts.
10. 21 (2008)
Have you ever heard of the trade of counting cards? If yes, then you have 21 to thank for that. 21 is the movie that depicts several MIT genius students combining math with gambling – and using it to win. It is based on a true story, although the movie does romanticize some bits. Ben Campbell, a senior at MIT, gets recruited by his professor, Micky Rosa, into his blackjack team. The movie has everything: a heist, gambling, humor, and romance. Best of all, it shows how counting cards can give you the upper hand in blackjack, but that it can also be quite dangerous if you're caught.